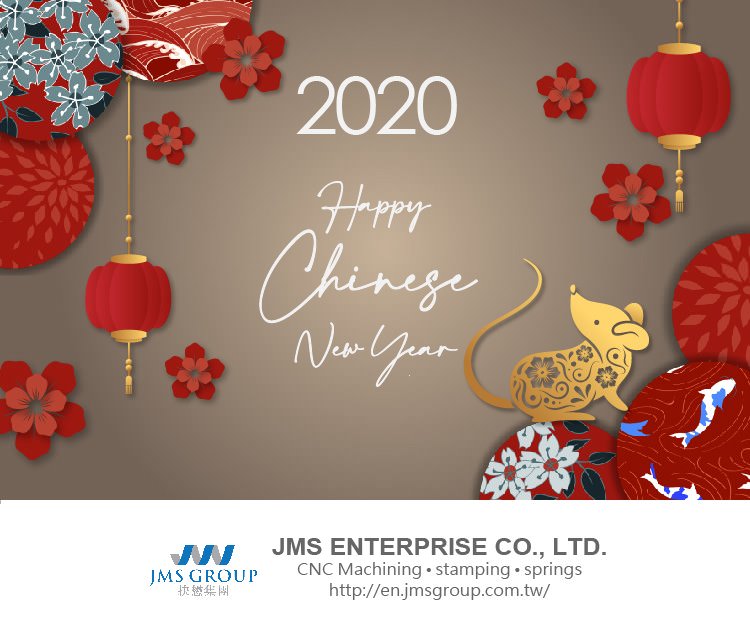 🏮🏮🏮🏮🏮🏮🏮🏮🏮🏮🏮🏮🏮🏮
🏮 HAPPY CHINESE NEW YEAR 🏮
🏮🏮🏮🏮🏮🏮🏮🏮🏮🏮🏮🏮🏮🏮
Here comes the CNY, the most important holiday for Chinese People to gathering and celebrating. JMS send our best regards to all the customers.
.
🐭May fortune come to your door.
🐭May wealth come generously to you.
🐭May everything go as you hope.
Please note that JMS Taiwan office will take a leave on 23 Jan and back on 3 Feb Monday. If you have any question, still can send us email and we will reply you soon.
JMS' Product: CNC Machining|Customized Stamping Parts|Customized Precision Springs|Customized Metal Wire|Stainless Straws
JMS' Competency: Capability|Equipment|Certification|Technology Articles|Spring Formula|Contact JMS
More about Us: JMS Website|YouTube|LinkedIn|Facebook|Twitter|Alibaba.com|Taiwantrade.com